Things you CAN do with a fused spine!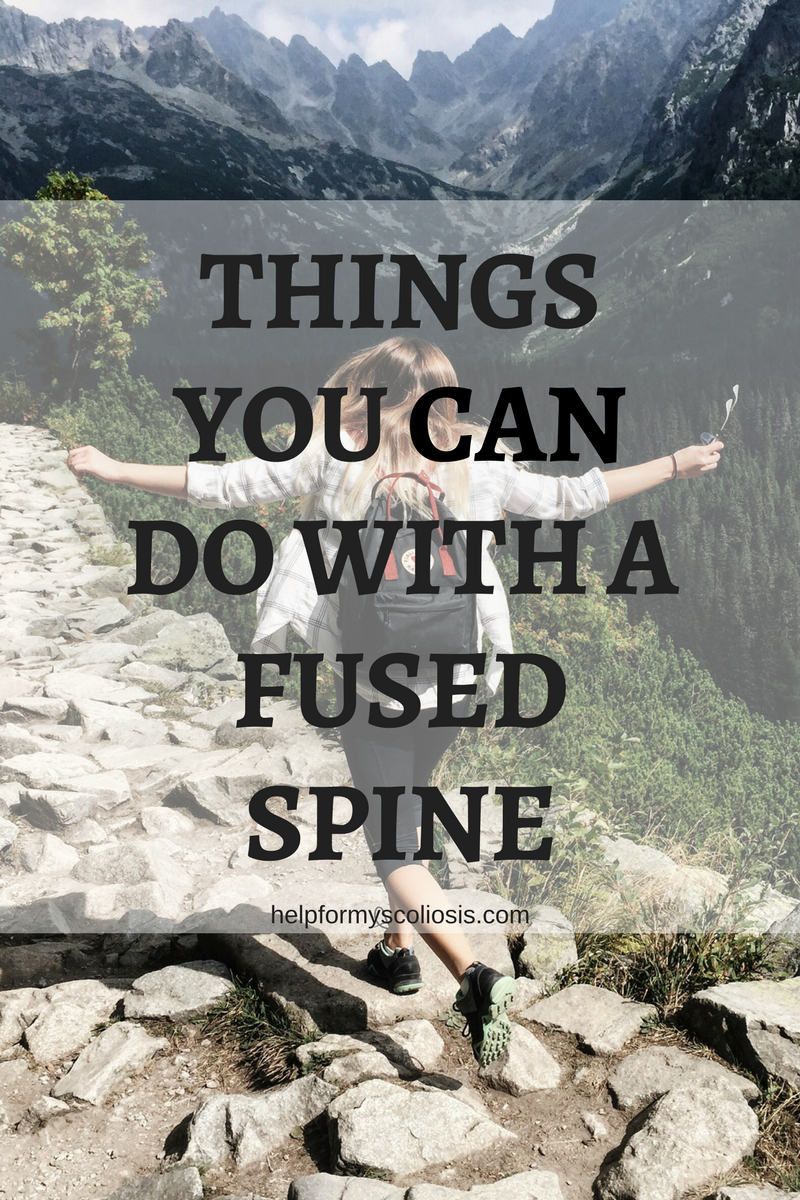 Since my scoliosis surgery almost 7 years ago, I have achieved SO many things that I never thought would be possible post surgery.  As scoliosis is in the news right now (as a result of Britain's Got Talent) and in some cases being portrayed rather negatively, I thought I would try and put a positive spin on things.
I wanted to share my achievements post scoliosis surgery to prove that there IS life after scoliosis surgery! Once recovered, your scoliosis shouldn't stop you from living a normal life.
Disclaimer: Please note, these are all things I have achieved once fully recovered (e.g after at least 1 year post op). Every case of scoliosis is different. I'm aware that not everyone is as lucky to be able to do all these things post surgery. If you have recently had spinal fusion, please do NOT try any of the below until you have had the all-clear from your Dr/surgeon. 
---
Things you CAN do with a fused spine…
Yes, living with scoliosis and a fused spine can be difficult at times. There are things you probably shouldn't do or activities that need to be adapted post surgery. Sometimes though, it's easy to ignore all the amazing things you CAN do after such a major life changing surgery.
I have blogged about most of these things already, but thought I'd list them all in one post and keep adding to it as I achieve more things!
Climb a mountain
Run 5K, 10K races
Complete a muddy obstacle course
Walk 26.2 miles overnight for charity
Complete a MSc Degree with distinction (while working full time)
Go to the gym 4/5 times a week
Body Pump and light weight lifting
Zumba/Aerobics
Dance
HIIT (high intensity interval training) classes such as Metafit
Boxercise
Body Combat classes
Cycling / Spin classes
Swimming
Hike up hills
Ride a Zip wire
Travel all over the world
Snorkel
---
What else?
ANYTHING you put your mind to!
My surgeon honestly told me there was nothing I couldn't do after I had all restrictions lifted. (This was after about a year post op.) 
I know every case is different and I'm not saying you SHOULD do any of the above things if you have had spinal fusion. Lower impact exercise is much better for the spine than say running.
However, these are just some of the things I have achieved since surgery that I'm proud of.
I never thought I'd EVER be able to do any of the above things when I was in the early stages of recovery. But our bodies are amazing things and I believe we can do anything we put our minds to. 
---
What's next?
My ultimate goal is to run the London Marathon for the Scoliosis Campaign Fund because, wow, what an achievement that would be!
The Scoliosis Campaign Fund had a team running the London Marathon this year and several team members had had scoliosis surgery. I just found that so inspiring and would love to do the same in the future.
I think surviving this surgery has really made me determined to keep pushing myself to try and achieve more things. I just want to squeeze as much out of life as possible and do as much as I can/try new things. When I first had the surgery, I was scared of causing damage to the fusion but now I am more daring.
There are so many more things I want to do, so hopefully I can keep growing this list over time 🙂
---
Have you had scoliosis surgery? What have you accomplished that you thought would never be possible post surgery?
Please share your stories below in the comments, I would love to hear from you!
Louise X
Enjoyed this post? Please follow me on Instagram, Facebook and Pinterest! Be sure to also subscribe to my YouTube channel!
I had scoliosis surgery in 2010 and blog about my experiences living with scoliosis. My aim is to raise awareness of scoliosis and help and inspire others with the condition.