Great Wall of China Trek: Day 5 – Badaling section
So we're now onto day 5, the final day of the trek and my final post about my Great Wall of China trek for scoliosis.
In case you are new to my blog or have missed any posts, I'm blogging about my Great Wall of China trek that I did to raise money for the Scoliosis Campaign fund a few weeks ago.
If you want to catch up, you can check out my other posts below…
By doing this trek, I have managed to raise over £1000 for the Scoliosis Campaign Fund which I am incredibly proud of. If you'd like to support me and everyone who suffers from scoliosis, you can still donate to my page by clicking here.
---
Great Wall of China Trek: Day 5 – Badaling section
So after a random breakfast of cabbage, spring rolls and potato type things we left the hotel where we had spent the past two nights and headed to the Badaling section of the wall. As it was the last day of the trek today, it was a shorter day of trekking (still about 4-5 hours though). This was because we had to head into central Beijing later that afternoon for an acrobat show and a massage (an interesting experience, more on that later).
We travelled by coach to the Badaling section of the wall. Apparently this is the most popular section of the wall that tourists visit when they come to Beijing and as soon as we arrived, we could tell. In sharp contrast to the previous days of isolated trekking, there were coach loads of tourists here.
We were also very high up in the mountains today, which meant it felt much colder than the previous days of trekking. And typically today was the day where we had all taken our hats, gloves and scarves etc out of our backpacks as we hadn't needed them on the previous days! Ah well, as soon as we started walking up the steep steps we warmed up!
It was very misty when we arrived due to how high we were and also how cold it was. The first part of the walk today started with a steep climb up a combination of steps and paved walkways until we reached the top. To be honest, today was much easier than some of the previous days because this section of the wall has been recently renovated.
There were also hand rails to actually hold onto (which felt a bit like cheating, but was very welcome after 4 days of trekking!) A few people in the group were feeling tired and a bit fed up today and to get through this last day was a real challenge.
As we got higher and higher, the mist cleared and the views were simply stunning, which helped to boost morale. I think they were some of my favourite views of the week as we were literally above the clouds. There were also less people the higher we went, as most tourists will just stay near the bottom of this part of the wall (I don't blame them either!!).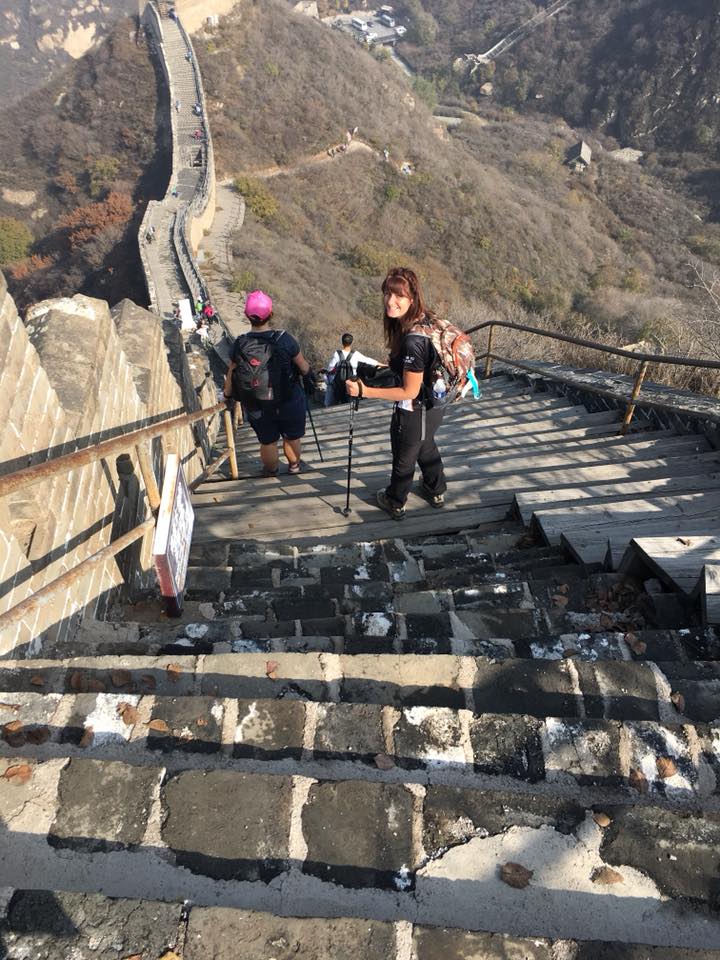 As with every day of the challenge, this part of the wall had some VERY steep parts which I found much worse coming down. There was definitely no relief on the last day.
Once we got to the bottom we had a celebratory beer as a group. I couldn't quite believe that it was all over and that we'd managed to complete the challenge! I felt quite sad that it was all over but also proud of what I had achieved. It truly was an amazing experience and what I loved was that every day was different. Badaling was how I imagined the wall to be after seeing it online or on TV. However, some parts of the wall such as Huanghuacheng and Gubeikou were not like anything I could have imagined. As they were so old and un-renovated, they offered a completely different perspective and experience altogether.
We had our lunch on the coach and then headed into Beijing that afternoon where we had a few treats to celebrate our achievements. We went to watch a Chinese acrobat show, which was an experience and then headed to have a massage. This wasn't exactly the most relaxing of experiences to be honest!! I ended up with bruises all over my legs put it that way..
After the massage we had our evening meal and a few drinks before heading back to our hotel, ready for a day of sightseeing in Beijing on our last day before heading home.
I had scoliosis surgery in 2010 and blog about my experiences living with scoliosis. My aim is to raise awareness of scoliosis and help and inspire others with the condition.