10 Inspiring Women With Scoliosis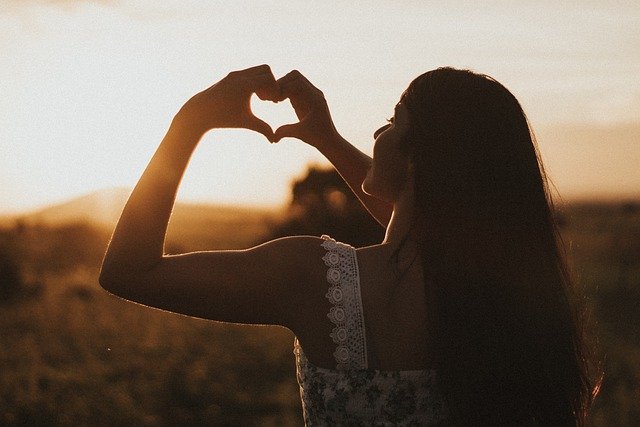 As March 8th is International Women's Day, I thought I would share 10 inspiring women with scoliosis.
Hopefully, this post will show that, if you are a woman with scoliosis, it certainly doesn't have to hold you back.
There is really no limit to what you can achieve!
Lets join together and celebrate some amazingly inspiring women with scoliosis.
---
10 Inspiring Women with Scoliosis
Eva Butterly
Eva is an amazingly inspirational scoliosis warrior. With severe scoliosis, she dedicates her time to helping others as a personal trainer. She provides scoliosis focused workouts and strength training. She's also an ultra runner, weightlifter, and runs a scoliosis warrior podcast. It's safe to say, she hasn't let her scoliosis hold her back!
You can follow Eva on Instagram here – evabutterly.
---
Hayley Lombard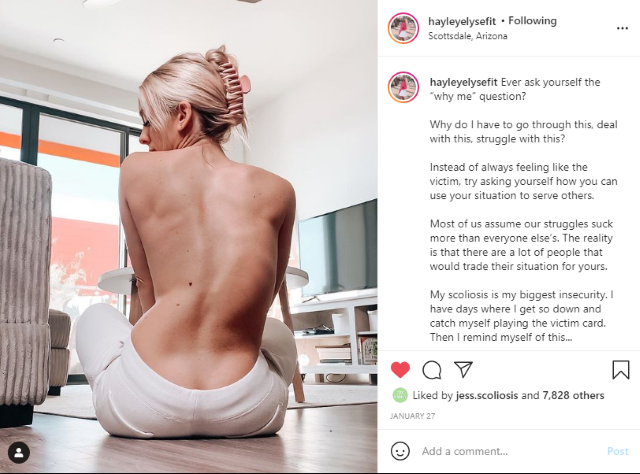 Hayley has a 90 degree severe scoliosis and doesn't let it get in the way of her goals. She is a health & fitness influencer, providing workouts for scoliosis on her Instagram and has also created a 6 week fit from home guide. She also posts regular inspiring content, like the post above, to raise awareness of scoliosis.
---
Paige Fraiser
Paige is a professional dancer, model and instructor who has won many awards over the years. She is a proud advocate for those with scoliosis and founded The Paige Fraser Foundation in 2017 which aims to "create a safe space for aspiring young artists, with or without disabilities, to reach their full potential in Dance, Music, Theater and the Visual Arts."
She is passionate about raising awareness of scoliosis and created Bent But Not Broken – an inspiring two part film highlighting dancers with scoliosis in honour of scoliosis awareness month.
"My goal is be a role model for the next generation of dancers. I want them to see a dancer who is proud of where she is from, comfortable in her skin and accomplishing her dreams despite what odds are thrown against her." – Paige Fraser
---
Emm Arruda
Emm Arruda is a Canadian model and proud scoliosis ambassador. She had scoliosis surgery at age 15 and at age 16 began her modelling career. She has modelled all over the world for famous brands such as Dior, Chanel, Paco Rabanne, Valentino and more.
"I always thought [modelling] was something I would never do because of my body being all out of shape," she says of the S-curve her back took on caused by scoliosis. "Even after the surgery, when people mentioned modelling to me, it seemed impossible." – Emm Arruda
---
Ayesha Jones
Ayesha Jones is a UK based former model turned photographer who created "Imperfection," an inspiring photo documentary of her journey with scoliosis, as well as capturing inspiring images of others with the condition for the Scoliosis Association UK.
"We are taught to block out pain and avoid struggles, this means we miss a valuable opportunity to heal ourselves and to deal with issues at their core. I address social issues from the inside out. I embark on a photographic journey that takes me to the root of my pain." –Ayesha Jones
Her incredible work was noticed by Magnum Photos and she was one of its '30 under 30′ photographers taking part in The Photography Show from March 20-24 at the Birmingham NEC in 2015.
You can follow Ayesha on Instagram.
---
Princess Eugenie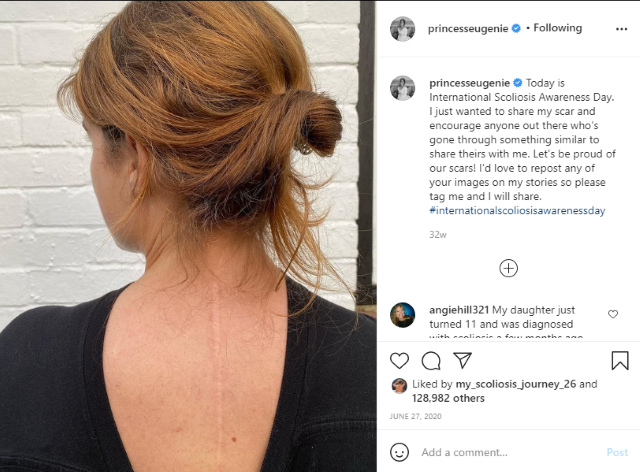 Princess Eugenie is the Royal Patron of the Scoliosis Association UK, after undergoing spinal fusion herself as a child.
She regularly helps to raise awareness of scoliosis on her social media and at events and is an inspiration and role model to many scoliosis sufferers across the globe.
---
Elizabeth Taylor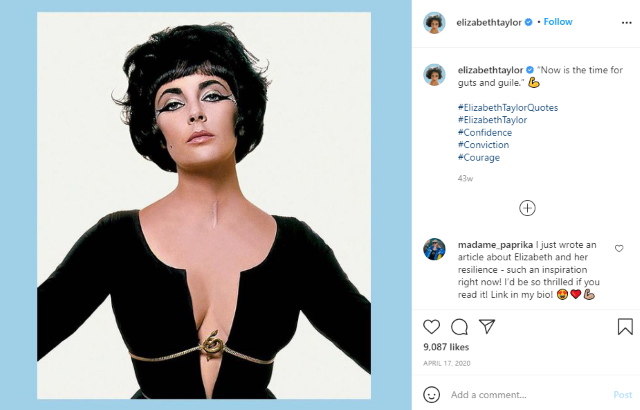 Dame Elizabeth Taylor was one of the greatest international movie stars of the 20th Century and one of the words most iconic women. She was born with scoliosis but never let this, or her various other health conditions, stop her from achieving great things. Over her successful career she earned five Oscar nominations and two Best Actress wins. She was also a savvy businesswoman, entrepreneur and AIDS activist. The peak of her film career came in the 1950s and 1960s, with four Oscar nominations in a row from 1958 to 1961.
"I'm a survivor – a living example of what people can go through and survive." – Elizabeth Taylor
---
Martha Hunt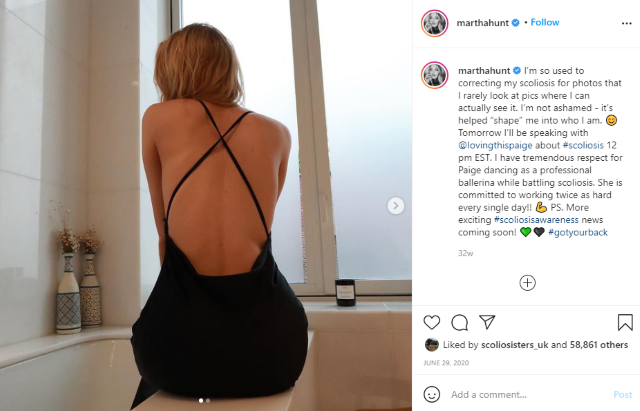 Martha is a successful model who had surgery for scoliosis when she was a teenager. She regularly raises awareness of scoliosis across her social media accounts, posting inspirational pictures of her scar and back.
"Eventually, I ended up signing with one of the top modelling agencies, IMG, and my life changed completely. To my surprise I was getting booked for the biggest designer runway shows in New York, Milan, and Paris. Finally breaking through and being cast for the most elite shows, I proved to myself that I could overcome any obstacle with perseverance." –Martha Hunt
---
Lindsay Ellingson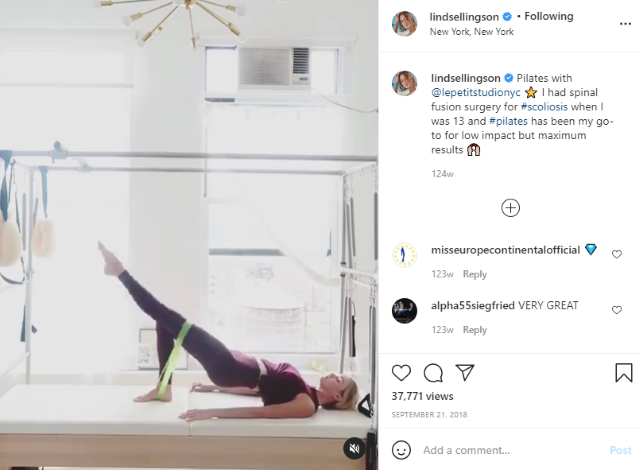 Lindsay is a successful American supermodel and entrepreneur, co-founder of Wander Beauty. She has modelled for famous brands such as Chanel, Dolce & Gabbana, Proenza Schouler, Valentino, and Christian Dior, as well as Victoria's Secret.
"Despite all of my success, the accomplishment that I'm most proud of is the scar on my back. Enduring bracing and spinal fusion surgery helped me develop a depth of character that has convinced me that I can do anything that I set my mind to. I have held a lot of titles in my lifetime, and I recently co-founded a line of cosmetics called Wander Beauty, adding entrepreneur to my list of titles. Starting a company is an exciting new challenge for me, one that I'm more than ready to take on. However, the title that I most want to obtain is that of messenger. My goal is to let every child who is facing scoliosis treatment or surgery know that they are incredibly special and will go on to do amazing things. My message is for you to stay strong and positive. If a shy, awkward teenage girl from the desert can get through this and thrive, so can you!" – Lindsay Ellingson
Maritza Correia McClendon
Born in Puerto Rico, Maritza began swimming at the age of 7 after being diagnosed with severe scoliosis. She then went on to become an Olympic Silver Medallist in 2004 and to break a World Record in swimming in 2000. She is now a motivational speaker. If that is not inspiring, I don't know what is!
You can read more about her inspiring story on her website – Maritza McClendon, or follow her on Instagram.
---
Thank you for reading! If you've enjoyed this post, please do follow me on Instagram, Facebook and Pinterest and be sure to subscribe to my YouTube channel!
You may also enjoy my post – Inspiring scoliosis Instagram accounts to follow.
Louise X
---
10 Inspiring Women with Scoliosis – Pin to Pinterest!
I had scoliosis surgery in 2010 and blog about my experiences living with scoliosis. My aim is to raise awareness of scoliosis and help and inspire others with the condition.