Saturday 27th June marks International Scoliosis Awareness Day, so I thought I would share my own scoliosis story to help raise awareness of this (surprisingly!) common condition.
When I was 14, I was diagnosed with scoliosis, a sideways curvature of the spine, after my dad noticed that my shoulders were uneven.  Unfortunately for me though, when my scoliosis was diagnosed, the Drs discovered that I actually had two spinal curvatures (in an 'S' shape) and both curves had already progressed to over 70 degrees, which is considered to be 'severe.'
The one benefit was that, despite their severity, my scoliosis curves were relatively balanced and so were not that noticeable to the untrained eye, which is why I think they were spotted so late in my case.
I was so terrified of the surgery that I endured 10 years of living with two large scoliosis curves, this resulted in considerable back pain and discomfort, severe muscle spasms and breathing problems, not to mention the emotional trauma of living with a very noticeable 'rib hump,' which was caused by my spine pushing on and rotating my rib cage.  As the pain got progressively worse, I was told that my curves were progressing and would likely progress year by year as I got older, which in itself could also result in breathing and heart problems in the future.
Eventually, as a result of increasing pain and discomfort, I got put on the list for surgery and had to wait over a year, before finally having corrective surgery five years ago on the NHS. At the time of surgery my curves had progressed to over 80 degrees.
The surgery was 10 hours and involved my surgeon straightening my spine as much as was safely possible, fusing my spine with bone from my ribs and inserting two titanium rods and a whole lot of screws to hold the correction in place whilst the bone fused. I also had a 'costoplasty' procedure at the same time, which involved the surgeon breaking and removing sections of several of my ribs to improve the appearance of my large "rib hump." This was a painful surgery with a very painful and long, uncomfortable recovery, including 6 months in a back brace, lots of strong painkillers and intensive physio.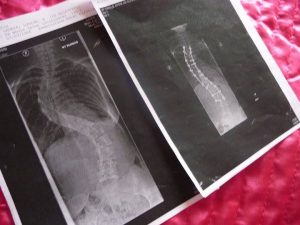 My scoliosis – X-Rays before and after surgery
Due to the severity of my scoliosis, my spine will never be 'straight' but my surgeon did an amazing job and I cannot thank him enough – he changed my life for the better. If you were to look at me today, you would never know that I had scoliosis and had been through everything I have, and sometimes, I even forget myself. Now, I rarely get bad back pain and the only giveaway of my condition is the impressively long scar down the centre of my back, which I am incredibly proud of.
My back and scar today – 5 years post op!
I'm also proud of how far I've come, as when I was lying in that hospital bed, barely even able to sit up or get out of bed by myself, I never imagined that once recovered I'd continue to travel the word, climb a mountain, run a 10K race, complete an MSc with distinction or walk 26 miles for charity – just some of the things I have achieved post surgery.
Me post surgery
This condition has never held me back and I think going through scoliosis surgery has made me appreciate everything I can do, as well as given me the determination to continuously push myself.
More awareness of this condition is needed because if scoliosis is spotted early enough when the curves are small, it can be treated through physio and bracing and sometimes, surgery can even be avoided.
Photo from Facebook: SHIFT Scoliosis
It's important to realise though that every case of scoliosis and scoliosis surgery is different. Find out more about scoliosis and how you can raise awareness of International Scoliosis Awareness Day here.
I had scoliosis surgery in 2010 and blog about my experiences living with scoliosis. My aim is to raise awareness of scoliosis and help and inspire others with the condition.