Feedspot: Top 25 Scoliosis Blogs
Last week, I was really pleased to have my blog selected by Feedspot as one of the Top 25 Scoliosis Blogs on the web.
I have been working hard on my blog recently and so this really means a lot to me.
I thought I would share the article as it contains some useful resources and scoliosis blogs that may be of interest.
You can check it out here:
Top 25 Scoliosis Blogs And Websites For People Living With Scoliosis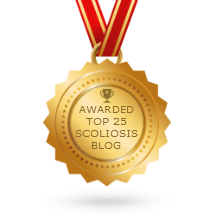 Please feel free to share on social media and Pin this post for later!

You can also follow my blog on Bloglovin' 🙂
Thank you!
Louise X
---
Have you got any favourite scoliosis websites or blogs? Let me know in the comments below 🙂
Pin it for later:
I had scoliosis surgery in 2010 and blog about my experiences living with scoliosis. My aim is to raise awareness of scoliosis and help and inspire others with the condition.